An animated series of 52 episodes of 11 minutes.
Season 2 in production and Season 1 currently boradcasted!
The incredible adventures of Alice, a headstrong 6-year-old, in Wonderland.
A country ruled by a fantastical and furious Queen, where the rules are illogical and changeable, and nothing happens as it does in her own world. Fortunately, she can count on her best friend, Lewis, to guide her. This rabbit knows all the ropes and all the inhabitants of Wonderland. Season 2 provides an opportunity to get to know Dodson and the Bibliomagician better — the last two to join the gang — but also to meet the King, a new character for this season. Alice & Lewis are stories that convey important values to help children understand the world in a positive way and learn there's always a solution to everyday worries.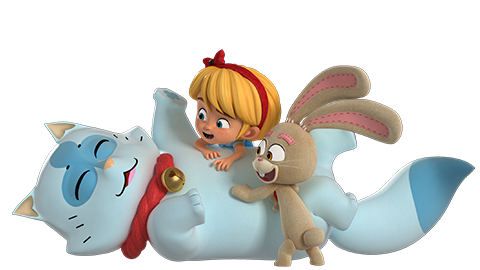 Series Bible | Romain Gadiou, Hervé Nadler Graphic Bible | Fernando Lira, Bernard Ling Original Score| Guillaume Poyet Director| Bernard Ling
Season 1
Year of Production | 2020
Producers | Blue Spirit Productions , MOBO Digital Factory, Gloob
Boradcasters |TF1 (France), Rai (Italie), Globo (Brésil), Turner (EMEA-APAC), TVC (Espagne), RTS (Suisse), HOP (Israël), JY (Chine), YLE ( Finlande), DR (Danemark), JY (Chine)…
Partners | CNC, Département de la Charente, le Pôle Image Magelis, Avec le soutien de Europe Créative MEDIA – la PROCIREP – Société des Producteurs – de l'ANGOA
Season 2 In production Producers | Blue Spirit Productions , MOBO Digital Factory Broadcaster |TF1