Arthur and the Children of the Round Table
A HD-CGi Series – 100 episodes of 11' and 3 specials of 22'. Target audience : 6-10 y.o
Season 2 in production
Season 1 currently broadcasted
Arthur and the Children of the Round Table
An epic comedy about the childhood of King Arthur!
Season 1 : In ancient and chivalrous times… Young Arthur and his friends valiantly strive to defend Camelot and Excalibur from King Uther's many enemies. The children's pursuits go unbeknownst – even though they'd love to be honored for their exploits! And, if possible, without getting punished or trapped in the Other World, that fantastical land of fairies, korrigans, ogres and Mother Nature…
Season 2 : Gadzooks! Everyone knows a knight's not made in a day! Arthur and the Children of the Round Table are back to sharpen their weapons and shine their armor for a second season, where cards are shuffled and scales tipped. In the second season, Igraine, Uther's sworn enemy, is based in Camelot, Princess Guinevere has a ringside seat, and Morgan, Igraine's little sister and Arthur's close friend, is torn between two camps.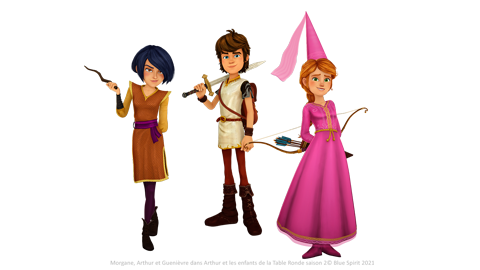 Series bible | Isabelle Huchet-Castel, based on a universe developped by Eric-Paul Marais
Graphic Bible | Fernando Lira
Original Score| Guillaume Poyet
Director Season 1 | Jean-Luc François
Directors Season 2 | Jean-Luc François, Bernard Ling, Régis Didry
Season 1
Production Year | 2018
Producer.s | Blue Spirit Productions en coproduction avec TELEPOOL – ARD / SWR, TELETOON + / Canal + Family
Broadcasters |TELETOON+, Canal + Family, Telepool, ARD / SWR (Allemagne), NRK ( Norvège), RTS (Suisse), RTBF-OUFTivi (Belgique), Société Radio Canada, S4C (Pays de galle), SHCC (Israël), SVT (Suède), VRT (Belgique), Jetsen Huashi (Chine)
Partners | CNC, Région Nouvelle Aquitaine, Département de la Charente, le Pôle Image Magelis, Avec le soutien de Europe Créative MEDIA – la PROCIREP – Société des Producteurs – de l'ANGOA
Saison 2
In Production
Producters | Blue Spirit Productions en coproduction avec Canal + Thématiques, ARD / SWR
Broadcasters |TéléTOON+, Canal + Thématiques ( France), ARD / SWR (Allemagne), SRC ( Canada)
Partners | CNC, Région Nouvelle Aquitaine, Département de la Charente, le Pôle Image Magelis